Stocking a new pond with fish is easy, but pond management is more about balance than anything else. With this in mind, most pond owners find it much more difficult to figure out what to do with older ponds containing well-established established fish population. A starter for pond and fish management would be to have a basic understanding of what is being caught (fish species and size) can help keep track and identify problems or future problems.
One method to evaluate the bass and bream populations is to fish for both large and small bluegill and bass and record what is being caught. You should keep accurate records of your fishing effort (time), success (fish caught), and harvest (fish kept) for every time you fish the pond.
A much more effective evaluation technique is to capture some of the young fish using a bag seine. The best time to do this is in mid-May to late June, after the bass and bluegill have spawned. Using a 20-foot seine (4 to 5 feet deep with 1/4 to 3/8 inch mesh), make three to five semi-circular passes in shallow areas of the pond and record what you catch. Allow the seine to arch so that the fish cannot easily swim around it.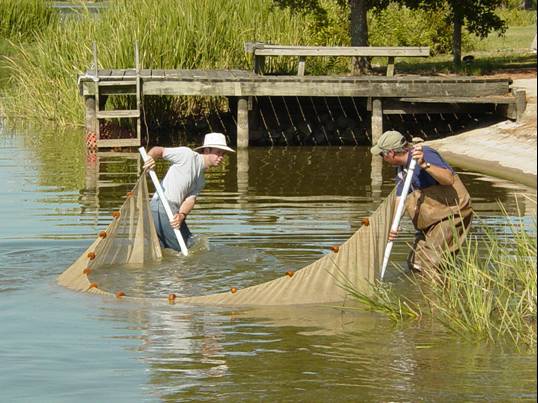 The fish caught in the seine hauls provide information on the reproductive success of the fish in the pond and also help determine if there are unwanted species present. Look at the fish in the seine, and match your catch to Table 1 to find out what kind of fish population you have.
Lightweight seines suitable for sampling ponds cost only about $25, and the little bit of time and money that is required is well worth the potential benefits. If catfish are desired and are not being caught, stock more fish. In ponds with existing bass populations, make sure to stock catfish fingerlings at least 8 inches in length. Keeping records of the number of catfish stocked and caught help determine if and when additional stockings are needed. Catfish may spawn if suitable habitat or structure exists.